Quote:
Originally Posted by thud123
for yucks and no real insight, a graph of the last two years. Honestly I'm not sure why I keep blowing into it each morning, perhaps just to keep the string alive...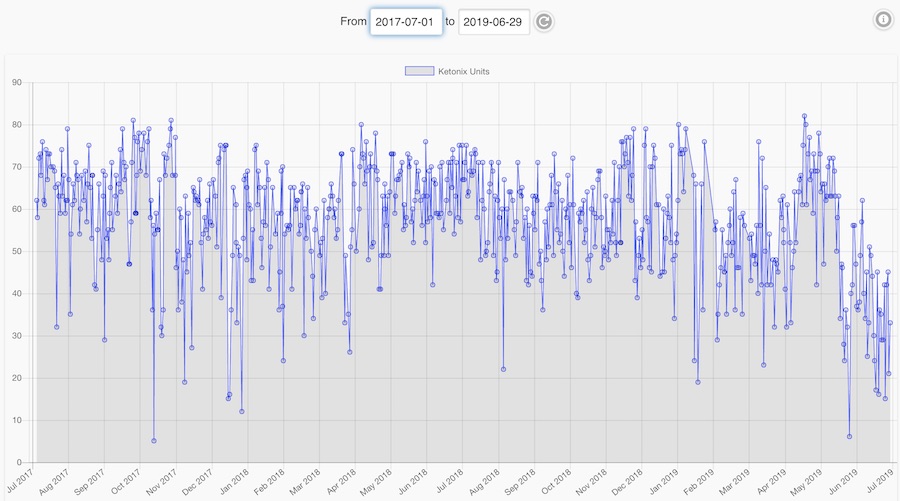 "Keto Shaming" - maybe a new word or concept to get and keep the plant eaters in line!
Have a fine weekend WereBear and all,
Thanks, and wow, do I see what you mean with that graph!
Tested again after no breakfast unless you count my giant coffee with heavy cream and coconut oil.
0.25! My highest level yet. This is reassuring
But to me, this would be when I'd be at my highest ketones, because I am most alert then. Longest fasting period during sleep and I leave a gap after my last meal of the day. Then charge things up with MCT and caffeine (omg i'm a bio-hacker) and cruise. Mmmm. Coffee and keto brain. That's high octane fuel.
One test I do plan to run this coming week is I have it off work and a lovely public beach ten minutes away, and I will start sunbathing and a little swimming. Not supposed to do any exertion, but I can lie down
It's supposed to help sleep and reset the circadian rhythm.
Good excuse to buy a couple of swimsuits online, which will come after the rainstorms predicted.
Guess how long THIS special occasion was put off
To be clear, I was planning a sunbathing/swimsuit summer in any case, over last year's holidays when I decided to do keto. So I bought too because I have no idea what fits.