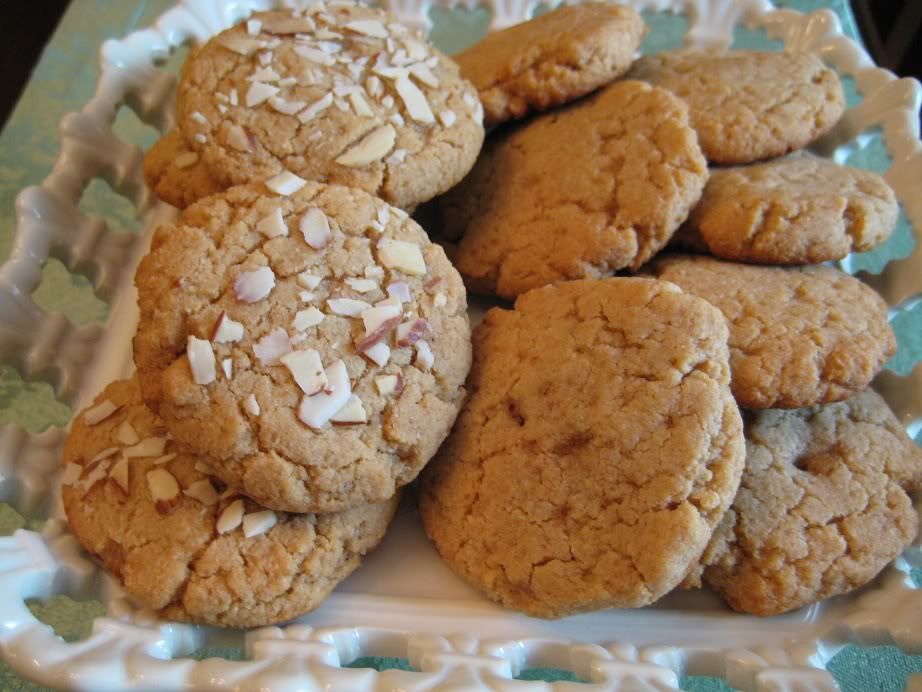 Made my hubby some delicious cookies this afternoon.
They came out kind of chewy and are still like that after they cooled off. I got this base batter idea from the chocolate chip cookie recipe on the back of the Honeyville Farms Blanched Almond flour bag. I made some drastic changes to their basic dough, however. They used all almond flour in their recipe and I've added some ingredients I find improve baked goods a bit. I'm very pleased with the chewy texture of these and will likely use this cookie dough for many variations in the future. These are not suitable until the nuts and seeds rung of the Atkins OWL phase. I've already tried two different variations on this basic cookie dough. Stay tuned for those soon.
INGREDIENTS:
2 c. almond flour
½ c. coconut flour
1 T. oat fiber
1 tsp. glucomannan powder (konjac powder)
1/8 tsp. salt
½ tsp. baking soda
½ c. grapeseed oil (or softened butter, if you prefer)
2 T. almond butter
1 T. vanilla extract
½ c. granular Splenda
1 T. erythritol
1 egg, beaten
DIRECTIONS:
Preheat oven to 350º. Measure out dry ingredients into a large mixing bowl. Beat in the egg and vanilla. In a saucer, blend the almond butter and oil as best you can blend them. Add to batter and stir well to form a smooth dough. Roll into 1″ balls and place them onto parchment lined baking sheet. Leave 1″ space between cookies. Press balls down slightly flat and pop pan into preheated oven. Top with chopped, sliced almonds if desired, but this really doesn't impact flavor, just the look. Bake for about 7 minutes. Do not overbrown these cookies or texture will be drier and less chewy. Remove from oven and cool on the pan a few minutes before removing with a spatula. These are delicate while hot but "firm up" nicely when they cool. Store in an airtight container.
NUTRITIONAL INFO:
Makes 28 cookies, each contains:
102.7 calories
9.07 g fat
3.95 g carbs, 2.0 g fiber, 1.95 g NET CARBS
2.54 g protein
48.2 mg sodium
11.75 mg potassium