Mon, Oct-24-16, 12:08
Experimenter

Posts: 45,396

Plan: Paleo 99.5%

Stats: 210/170/160

BF:

Progress: 80%

Location: San Diego, CA
---
LOL! I'll have to look up that tool.
I tried baking the spaghetti squash this time and I actually prefer it steamed. It was quite al dente after baking. I like the way it gets very soft and creamy after you steam it. Kind of reminds me of risotto.
When I was whacking my squash I paid close attention to where my hands were and I must say you'd be hard pressed to hurt yourself as long as you do it right.
This time I also cut off the stem end first. Then rested it on the flat end where the stem was, and whacked the knife down the center, mallet on the knife end.
Here's a picture of someone doing it with an acorn squash. Only difference is, I'd tap on the end sticking out on the other side. Once the blade is embedded.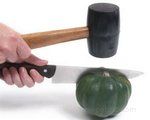 ---
Last edited by Nancy LC : Mon, Oct-24-16 at

12:17

.