To be such an easy dish to make, This one is super delicious! Pilot Gal's
Sofrito
was the inspiration for mine and many, many recipes created with it since I first tried her
Sofrito
. I'm truly addicted to the stuff now, but the hubs........not so much.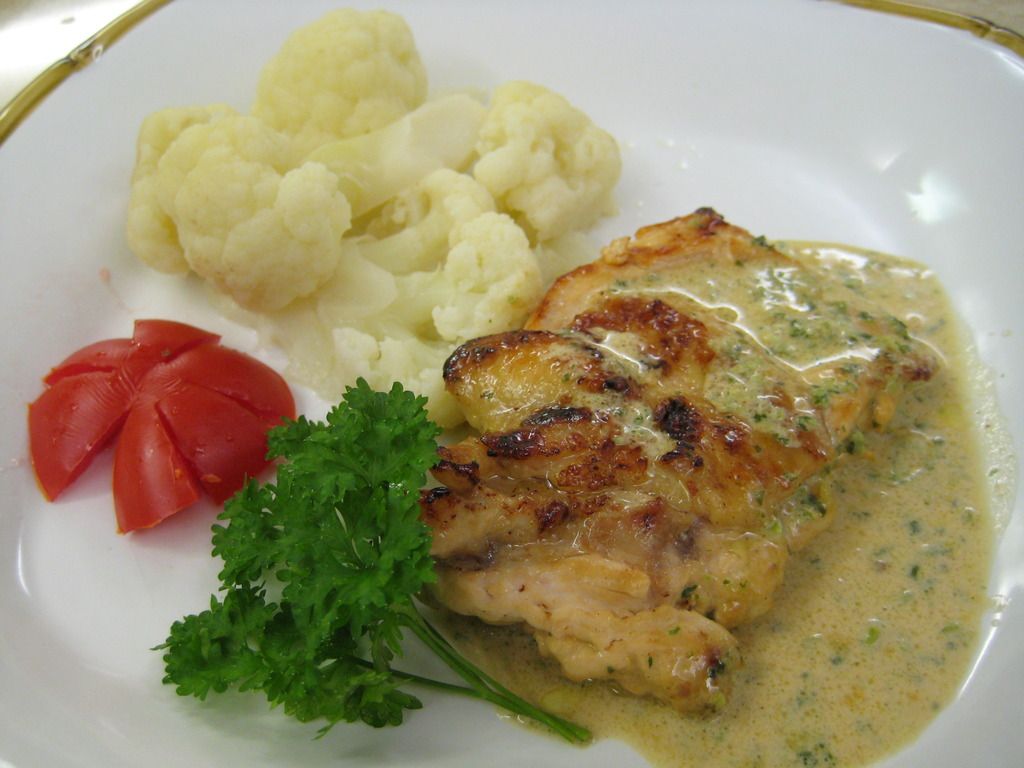 CHICKEN IN SOFRITO CREAM
INGREDIENTS:
1 large chicken breast, skin on (10 oz. of deboned meat)
1Ĺ T. butter
1 c. homemade chicken stock
Ĺ c. heavy cream (use 2 T. less if still on Induction)
Sprinkle xanthan gum (if needed to thicken)
2 T.
Sofrito
sauce (see below)
DIRECTIONS: Melt butter in a non-stick skillet over high heat. Slice meat at an angle laterally into 4 smaller fillets. I pounded mine, but that isnít necessary. Just a habit with me and chicken.
Sear the chicken in the hot butter, both sides, until golden. Lower to medium when both sides are golden and the meat is fully done. Add chicken stock around the meat. Add cream and Sofrito sauce and simmer a couple minutes. Simmer to reduce cream. If still not thick enough, lightly dust with xanthan (less than 1/8 tsp.). Simmer until it slightly thickens, stirring constantly. Remove from heat and serve at once with you favorite sides or a nice salad.
NUTRITIONAL INFO: Makes two adult servings, each contains:
590 calories
46.3 g fat
2.6 g carbs, 0.3 g fiber, 1.3 g NET CARBS
37.4 g protein
470 mg sodium
SOFRITO: (slightly modified from PilotGal's recipe)
INGREDIENTS:
Ĺ bunch of fresh cilantro
4 large green onions, roots removed
4 garlic cloves
2 oz. red bell pepper (or green)
ľ c. parsley
ľ c. extra virgin olive oil (more if you want a thinner sauce)
DIRECTIONS: Pulse all ingredients in a food processor or blender until chopped and blended. Donít pulse too long. You want it coarsely chopped about like pickle relish. Store your sofrito in a lidded jar in the refrigerator if not using immediately. It can also be frozen in plastic bags.
NUTRITIONAL INFO: Makes about 1Ĺ c. (20 tablespoons), each tablespoon contains:
28 calories
2.74 g fat
.88 g carbs, .24 g fiber, .64 g NET CARBS
.24 g protein
10 mg sodium