Hi girls!:daizy:
I am so surprised how much I am loving it so far.
Apart from the Sodom and Gomorrah advice in SEC there are some things
I think Jeep, Mo and the rest of you will love.
SEC is much easier than CAD and CALP once you have grasped it even though the book is crazy,
there are many gems in it.
The first 5 steps are written in a "fallen off the wagon" maner - if you have then this is a great WOE
how to gradually adjust to the plan. Step 6 is where it gets more like CALP.
It did take them 10 years to write so there is some good stuff in it after all.
There is no mentioning about f i berries, that was odd, just a short fruit list.
Perhaps they figured that we are aware?
No one hour rule for the SEC. No rules at all about time. I like it, less stress.
You don't HAVE TO eat tons of sallad/veggies in the BIG balanced breakfast
if you don't want to. Read for yourself in the sample BBB breakfast I posted further down.
You never thought that did you! ;)
Of coarse you need to have a CM with veggies/sallad regulary then. If you are doing OMAD
you will need the veggies - naturally. This gives a lot more freedom.
Key is to include proteins in the breakfast. I love both TMAD and OMAD.
I let my body decide if I need the CM or not. I agree with Jeep, I too love the feeling of OMAD,
it hits me in the happy spot. Clear-headed and happy.
Nothing about weighing. Love that too. I still like to use the measure tejp, that works for me.
I love that they tell you to drink reg. soda not diet soda (in the RM). I have trouble with the AS taste, so hardly ever drink it. I am afraid what it can do to your brain.
Avoid all AS, it is spikes you 300 times higher and is 300 times sweeter than reg. sugar,
havocs blood sugar, hormons and your bodyīs rhythm ... and glutamates (has many names, often called/labelled as "natural flavour").
Here is some good news to ya.
You know, in this book they are pro-cheese. I had some 18 months aged country cheese today. :) C
heese provides natural GTF Chromium
.
This is good news for Pat too. 💕 Hello Pat where are you girl, miss you :wave:
Even
NUTS are allowed
now as a CM food. Thank God.
That is Non hidden glutamate nuts and not tampered with sugars nuts.
---
SEC Big Balanced Breakfast (sample plan)
Click to enlarge.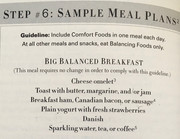 BBB/RM
This mornings RM 8.45 am. I had a little green sallad with a sour cream dip and
meatballs. One small pecan/maple danish. One small toast w butter. Small piece of cheese. Small coffee + 2 cups of tea with honey.
Tonight I may be making a cauliflower pizza and have some for BBB tomorrow.
Maybe. Have lots to choose from.
A small CM(called snack in the SEC). I had this last night around 4 or 5 pm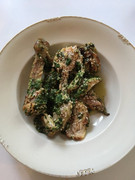 This weeks progress 2% (-0.93 lbs)
Thank God. That is 1% more than in a long time.
Happy Dance!
:cheer:
/Hugs Happy.