-
CAD/CALP
(
http://forum.lowcarber.org/forumdisplay.php?f=100
)
- -
Cad/calp 2021
(
http://forum.lowcarber.org/showthread.php?t=484768
)
| | |
| --- | --- |
| Jeep#17 | Fri, Jan-29-21 07:10 |
---
Cad/calp 2021

Hi everyone!
I know itís almost February but I wanted to have a NEW place to post and for people to join in.

What I have learned lately is I do lose faster if I LC during the week and CAD on the weekends but........I am eating more junk on the weekends then when I was eating the CAD plan every day! I guess knowing that I have to wait a whole week to have some carbs somehow makes me crave the sugar and you know the junk!

So Iím back to my CAD plan and Iím going to try to remember to weigh myself everyday so I can average my weight.

I would like to eat in a window but Iím not sure about what hours are best.

16/8.....19/5.....20/4....or maybe a 24 hour fast every other day?

Also I would like to find some good books on eating more Whole Foods
something easy as I donít like to cook often but a couple of recipes to incorporate into my weekly meals.

Sometimes Iím just all over the place in my eating but Iím glad to be back to my CAD. I think if I LC to much I tend to binge eat and I donít do that on CAD unless itís a holiday or my Birthday.

I think knowing I can eat what I want makes me WANT to eat more healthy but if I donít and eat something crappy lol I just move on. Plus it stops me from continuing to eat junk as my 1 hour window is over!

Have a great day people💕
| | |
| --- | --- |
| Happy girl | Fri, Jan-29-21 10:56 |
---
Keep it Simple <3

Glad to see ya back 💕.
Keep it simple. Try eating the plan D (in CAD) or plan C if you are still hungry.
Don't fast longer than 23 h, don't skip the RM and you will thrive.
A balanced RM is the fuel for your coming 23 h and kickstarts the fat burning & keeps you happy durring the day.
Never deprive yourself from a CM/RM.
Eat your CM when you are hungry. Have your RM around the same time if you can.
Take one day at a time, CAD/CALP ia a loving life span WOE.
Leave at least 90 min. window between CMs and RM.
I often eat my CM 2-6 h before the RM.
In CALP the CM is called The Craving-Reducing Meal for the right reasons.
Eating more Whole Foods sounds like a good plan. Make your RMs sallads tasty :), that has helped me. Going back to/rereading the books has helped me a lot.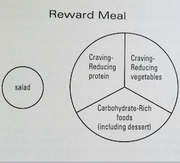 | | |
| --- | --- |
| Jeep#17 | Fri, Jan-29-21 12:54 |
---
Thank you Happy!
You have some great ideas for me and I appreciate you taking time to share.

Iím also going back to the book and reading the plans again. I really donít understand why they want you to eat a salad with plan C and Plan D. Plan B doesnít require a salad.

Iíve read thru some pages and I canít find anything about the salad. I can only think that they feel the salad will fill you up so you donít eat as many carbs.

I will have to read the whole book again next week as I donít have time this weekend.

I like salads but I donít always eat them every day. I find I like them more in the summer and sometimes donít have the ingredients to make one. If itís really that important I will make the effort to keep everything on hand.

Also I donít like consuming soybean oil that there made of. I do make my own Mayo but when I try to make dressing it is always watery or doesnít taste as good as the store bought. I like ranch or blue cheese.

Iím going to look for some good recipes and try again🤞
| | |
| --- | --- |
| Jeep#17 | Wed, Feb-03-21 06:55 |
---
Yesterday,

2 black coffees

Bacon and eggs

Green drink made in ninja blender with spring greens, strawberries, and a little water and ice. Next time I will leave out the ice because the berries were frozen and it became to frosty.

Tyson lightly breaded chicken tenders and a slice of my homemade meatloaf.

Weight stayed the same but I am remembering to weigh daily and will average out.

This week I am eating in a 4 hour window 2-6
I do get hungry but it comes and goes. I have my CM at 2 then my RM before 6pm
| | |
| --- | --- |
| Happy girl | Wed, Feb-03-21 13:28 |
---
Veggie shake

Hey Jeep,
good to see ya!

You are doing great.

Eat till you are satisfied.
Have another CM for breakfast or at least 90 min before or after a meal if you are still hungry, that's ok.

Treat yourself to feel full and happy, with balanced CMs and RMs . If the B plan or C plan is better go for it o even the entry plan. Make sure you are satisfied.
Whatever works best for your body. Fine tune :)

A veggie shake that is very creative. :thup:

I don't always eat sallad for my RM but instead i have more veggies (under 3% carbs) in my meal even a veggie soup or just LC veggies + dipp or sallad wraps ... and so on.
Sallad is still something I enjoy and eat on most days in my RM -because it works and keeps the pounds and cravings away.
💕

Chromium GTF - Glucose tolerance factor chromium
This has helped me. There is a hole chapter on it in CALP.
It might worth a try and could help you as well.
Chromium GTF* - must be taken just with water on its own f.i. before going to bed - so it works. It lowers the blood sugar.



Glucose tolerance factor chromium
| | |
| --- | --- |
| Jeep#17 | Wed, Feb-03-21 13:53 |
---
Hi Happy,
Iím doing the CAD plan and it doesnít require the balancing that the CALP does.

I just eat what I want for my RM, Iím not really a rule follower lol 😂 thatís why I like the CAD plan.

Veggie shake haha thatís my way of getting my salad greens and since itís my RM I threw in the strawberries.

I too like salads just not every day. Iím making my own ranch and still fine tuning it. I make it with my HM Mayo I make with avocado oil.

I see your losing weight very proud of you! Sticking to it is key and I need to remind myself of that and not plan jump.

3rd day of 20/4 (2-6pm) I didnít think I could do it but Iím loving it.

Iím not a veggie lover, all growing up I was made to eat my veggies and hated it now the only way I like them is salad or veggie soup
| | |
| --- | --- |
| mojolissa | Wed, Feb-03-21 15:03 |
---
Hi ladies :wave:

I enjoyed the CAD eating plan as well. Intermittent fasting is the only way it worked for me tho. Sometimes it was an excuse to eat whatever I wanted, but that was ok as long as I ate within one-hour and fasted the other 23 hours every day. When I started to eat at other times during the day, and still ate junk, the pounds piled back on. :cry:
I'm now trying to eat twice per day and have a cut-off time, have a maximum calorie allotment and choosing better nutritious foods. I'm logging on cronometer all the foods I eat, to stay focused.
| | |
| --- | --- |
| Jeep#17 | Wed, Feb-03-21 15:22 |
---
Hi Mojo!
I also eat 2 meals a day, one is my CM mostly protein then my RM usually with one carb.

On the weekends I eat what more carbs but only for the one hour a day.

I canít do OMAD I just canít eat enough food at one meal. I really make sure to get a lot of protein in everyday so I need two meals.
Iím hoping not to have to count calories but so many people do and they love doing it.

So are you OMAD or eating in a window? Maybe you can give CAD or CALP another try, not sure how many carbs you are eating but would love to have you join us. Are you following a certain LC plan?
| | |
| --- | --- |
| Jeep#17 | Wed, Feb-03-21 15:27 |
---
I just saw your plan changed to CAD lol sorry for all the questions glad your back to it💕
| | |
| --- | --- |
| Happy girl | Thu, Feb-04-21 04:24 |
---
The Sweet Serotonin Punch

Hi girls! 👋

I too love the IF effect.

I tried just IF but it didn't work long term for me but CAD/CALP keeps a handle on the blood sugar and still gives you that sweet serotonin punch for 23 h. Love that.
I too love "both" programs and use both books.

- Welcome back Mojolissa 💕, look forward chatting.

- Thanks Jeep, I am so glad you are too 💕 I am going to try your veggie smoothy when it gets warmer. :)


Bless you girls! Hope you'll have a great day both of you.
| | |
| --- | --- |
| mojolissa | Thu, Feb-04-21 10:20 |
---
Hey girls-
Yes, I also have changed to 2MAD. I was getting hungry at night on OMAD, and that is an indication that I wasn't eating enough or eating the wrong things. Ravenous hunger (I call HANGRY) means I'm doing something wrong!!!
I need to make protein a priority, next veggies, fruits and so on. Cronometer tells me if I am getting enough to meet my daily requirements of Vitamins and Minerals.
| | |
| --- | --- |
| Jeep#17 | Fri, Feb-05-21 07:29 |
---
Morning,
Well I didnít make it to my fasting window yesterday I started eating at 8:30 am!!

I did eat protein, a couple of leftover chicken wings. I was so hungry and I know why. I woke up at 3 and could not go back to sleep. When that happens I just canít IF.

Then I was having terrible cravings a few hours later all from lack of sleep. Thereís nothing I can do about that when it happens it just happens!

So normally I have my CM for dinner, welp I couldnít wait for it lol and really had quite the binge!😳

So of course you can imagine how Iím feeling this morning, tired again from the carbs and just feel crappy today. No one in my family understands why to many carbs makes me feel bad. They can eat them right up to bed time and be fine.

I had a few leftover temptations so in the trash they went before I get to hungry. I know I can have them for my RM but I just want to eat better today.

Drinking my black coffee now and Iím not sure if i will make it till 2 before I eat but as long as I stay on my plan (RM dinner) Iím good.

Have a great Friday!
| | |
| --- | --- |
| Happy girl | Fri, Feb-05-21 14:05 |
---
💕Hi girls!

Hope both of you are getting some peace of mind.


Mo! Sounds like a good plan. :) See ya


Jeep!
Sounds like you need to be more flexible with the CMs. I also get hungrier earlier if I get upp early.

Plan ahead. Bring some boiled eggs and some cucumber f.i. in a plastic bag. Anything, cold meatballs? Eggs have saved me many times. Once I was attending a funeral gathering the food was sandwich cake + 7 sorts of homemade cookies, that was the lunch. I had a bag with eggs and sticks of veggies that I ate by the car right before we went in. I have had food in my handbag many times on the go even when flying. Beef Jurky. And water.

A simple CM emergency kit is very convenient.

<3
| | |
| --- | --- |
| CarlieW | Fri, Feb-05-21 18:49 |
---
Hi,
I was here last spring (I think), but I didn't stick with the program. I am still the same weight and ready to try again. I was so glad to see some activity on the board for CAD.
| | |
| --- | --- |
| Happy girl | Sat, Feb-06-21 03:39 |
---
Quote:
Originally Posted by CarlieW
Hi,
I was here last spring (I think), but I didn't stick with the program. I am still the same weight and ready to try again. I was so glad to see some activity on the board for CAD.
Hi Carlie 💕
God bless you!
Treat yourself to reread the book and plan for a delicious and balanced RM today :).
Do some CM and RM grocery shopping, stash up
with ... CM veggies and protein LOL
All times are GMT -6. The time now is

06:42

.
Copyright © 2000-2022 Active Low-Carber Forums @ forum.lowcarber.org
Powered by: vBulletin, Copyright ©2000 - 2022, Jelsoft Enterprises Ltd.